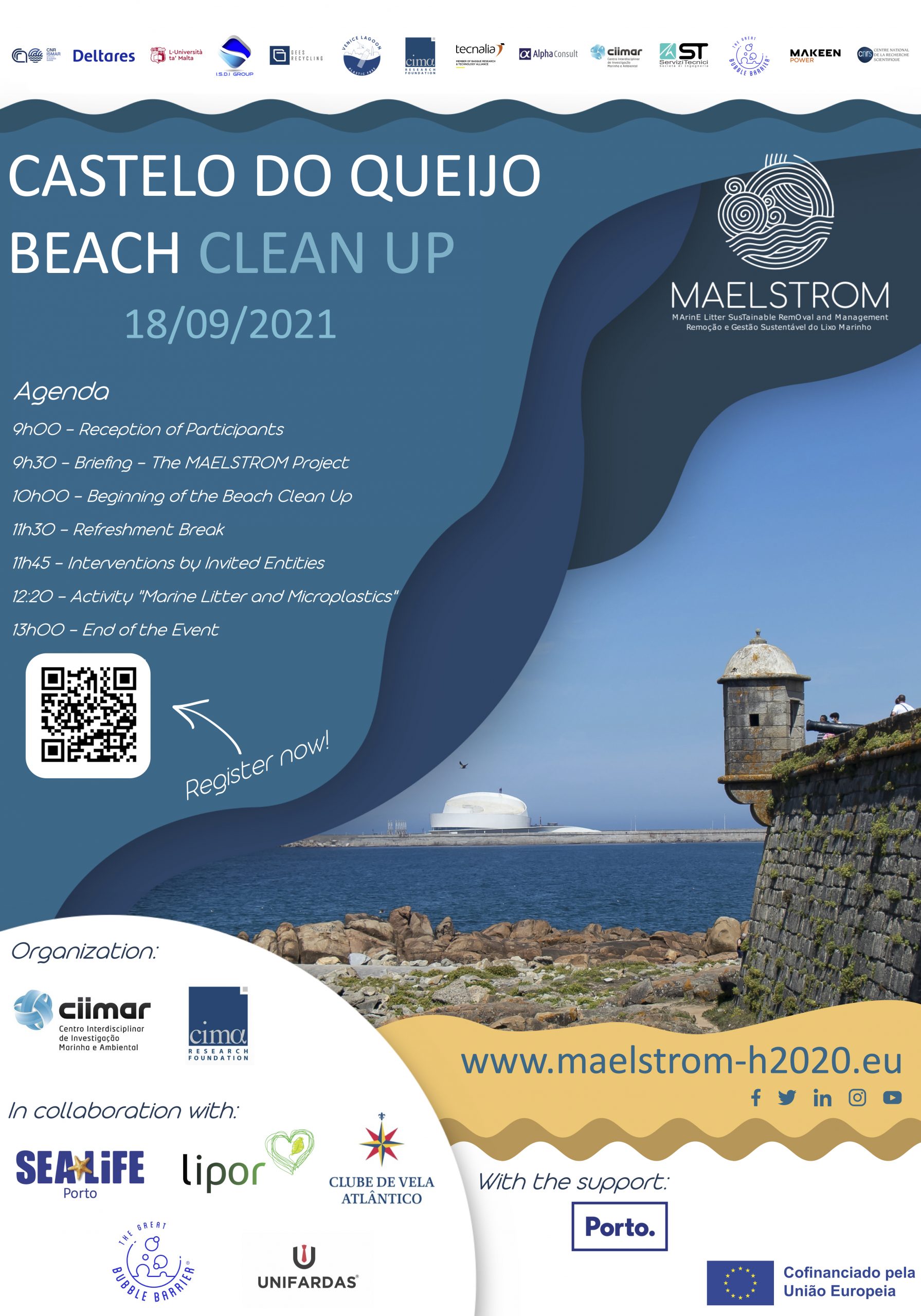 The World Clean up Day will be celebrated on the 18th of September, one of the biggest civic movements of our time, uniting 180 countries around the world for a cleaner planet. This is also the mission of the MAELSTROM project, a project funded by the European Commission, under the H2020 Programme, which brings together an international consortium that, over the next four years, will aim to protect coastal ecosystems by removing, recycling and returning marine litter to the market chain.
Within the scope of MAELSTROM, the Interdisciplinary Centre of Marine and Environmental Research (CIIMAR) and the CIMA Research Foundation will organize a Beach Clean up at Castelo do Queijo in collaboration with Sea Life Porto, LIPOR – Intermunicipal Waste Management Service of Greater Porto, Atlantic Sailing Club, Águas do Porto (the utility responsible for urban water cycle management in Porto) and UNIFARDAS.
This event will have the support of the Municipality of Porto and will also feature the presence of The Great Bubble Barrier, a partner of the consortium that will install a pilot technology for the removal of marine litter in the Porto district.
The Beach Clean Up is scheduled at 9:00 am, in front of Castelo do Queijo Beach (41°10'05.9″N, 8°41'22.2″W)
Agenda
9:00 am – Reception of Participants
9:30 am – Briefing – The MAELSTROM Project
10:00 am – Beginning of Beach Clean Up
11:30 am – Refreshment Break
11:45 am – Interventions by Invited Entities
12:20 – Activity "Marine Litter and Microplastics"
13:00 – End of the Event