Robotic Seabed Cleaning Platform | Venice Lagoon, Italy
The robotic seabed cleaning platform developed by TECNALIA, CNRS- LIRMM and Servizi Tecnici allows to reach the seabed of lagoons and coastal areas to remove marine litter, including macro plastics. It also identifies marine litter and picks each item selectively so as to minimize the impact on ecosystems.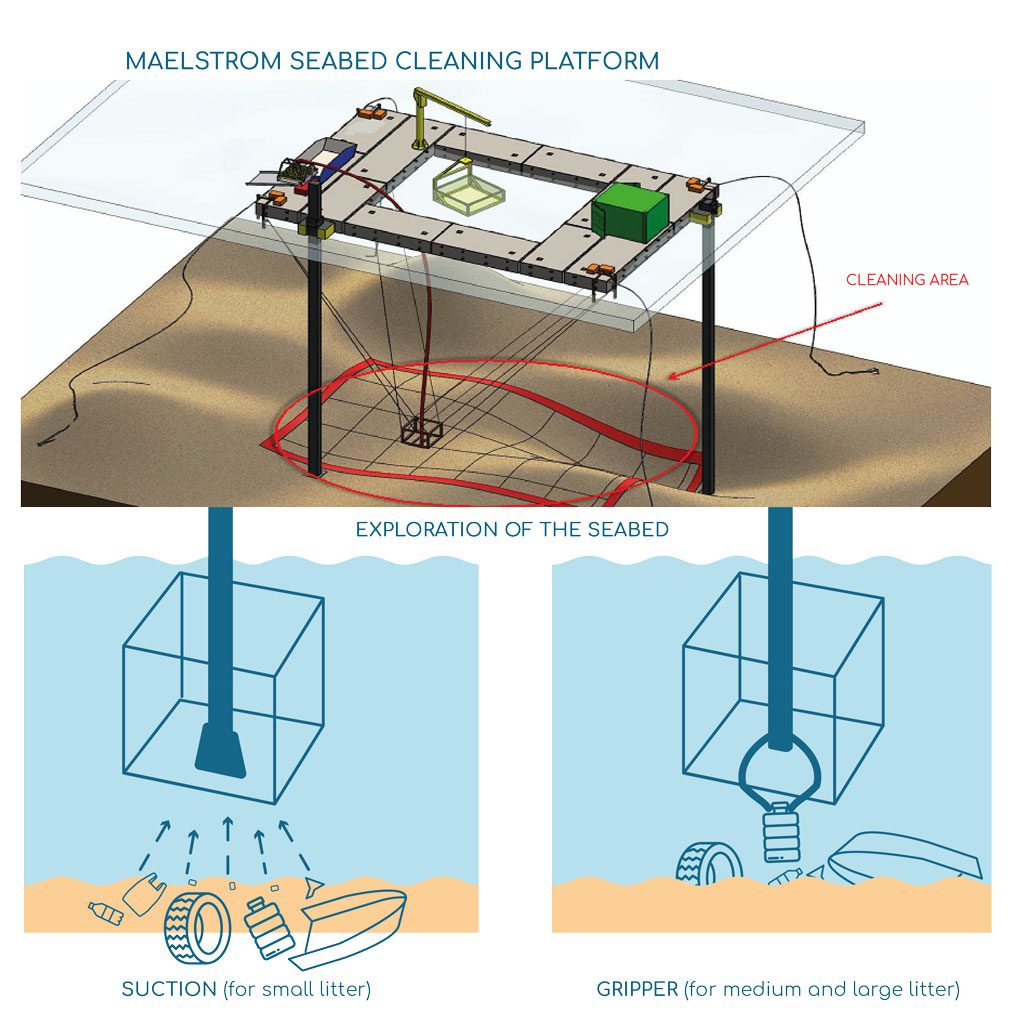 A floating platform to support the cable robot structure and winches, as well as industrial equipment.
A cable robot, consisting of eight cables wound onto eight winches to connect the floating platform to an underwater mobile end- effector. By controlling the length and tension of each cable, the position and orientation of the robot end-effector is accurately controlled.
A set of sensors for underwater perception to control the robot and detect & identify the marine litter to be removed.
A drudge to suck up smaller litter and a gripper to grasps larger items like tires, parts of boats, fishing nets etc.
Bubble Barrier | Ave River, Portugal
The Bubble Barrier, developed by The Great Bubble Barrier, is an innovative and efficient technology that catches plastic pollution in rivers before it reaches the ocean, using bubbles. It consists of 3 components: a bubble curtain, a compressor, and a catchment system. Within the MAELSTROM project, the Bubble Barrier will be co-powered through solar panels developed by the University of Malta.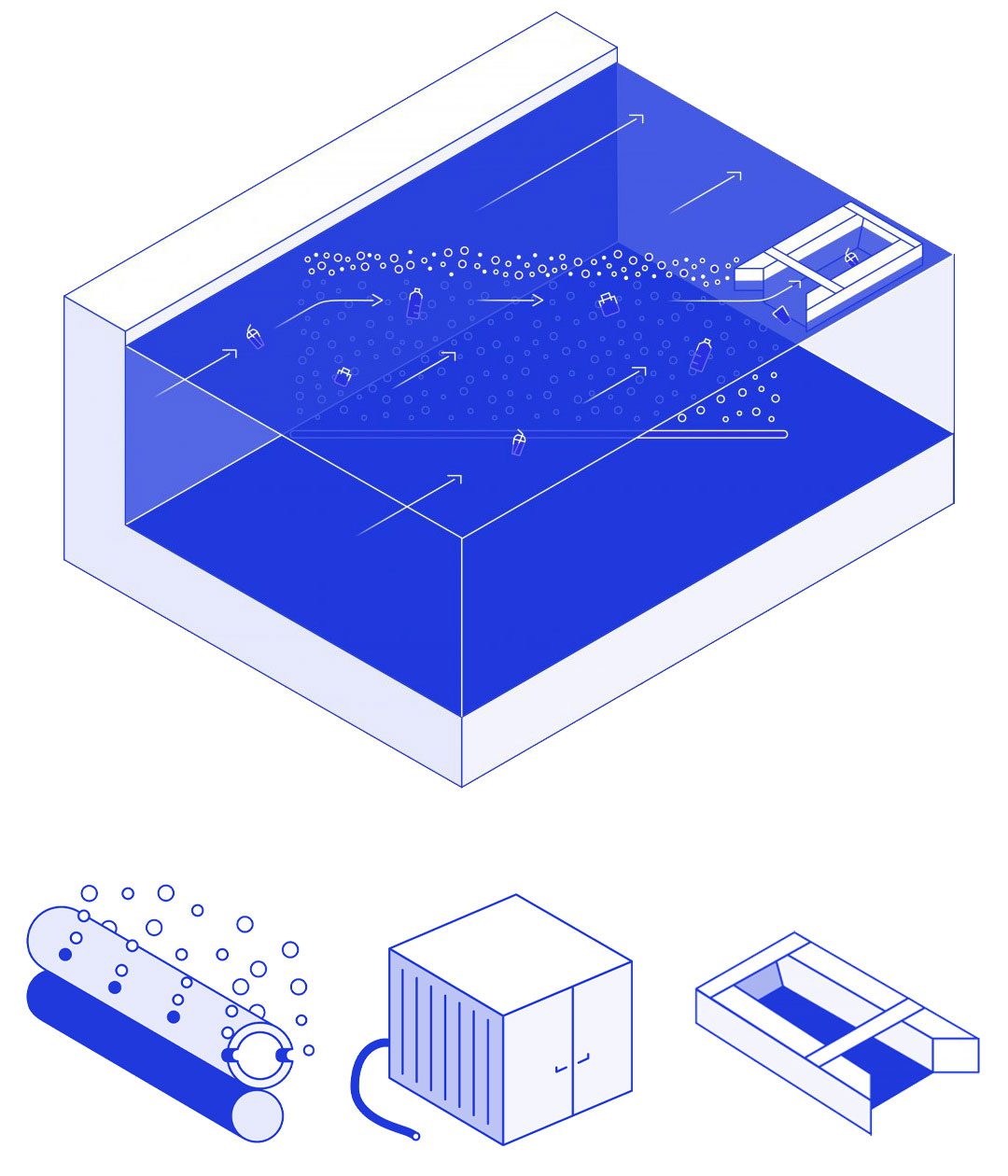 A bubble curtain is created by pumping air through a perforated tube on the bottom of the waterway.
The bubble curtain creates an upward current which directs the plastics to the surface.
By placing the Bubble Barrier diagonally in the river, the natural flow will push the plastic waste to the side and into the catchment system.
Electricity generated from floating and on- land solar panels will provide a portion of the energy requirements of the Bubble Barrier.
A marine litter tracking app
The MAELSTROM app was designed for practitioners and aims to facilitate marine litter management cycle through three main sections: identification, collection (clean-up) and transfer to the final destination for recycling (tracking). The data collection process on the field has also been made easier: the information on marine litter can be recorded automatically rather than manually. The data collected by the MAELSTROM app is suitable for sharing with portals and repositories of marine litter data such as the European Marine Observation and Data Network (EMODnet), contributing to transparent and complete marine litter collection and recycling processes in Europe, in line with the Marine Strategy Framework Directive.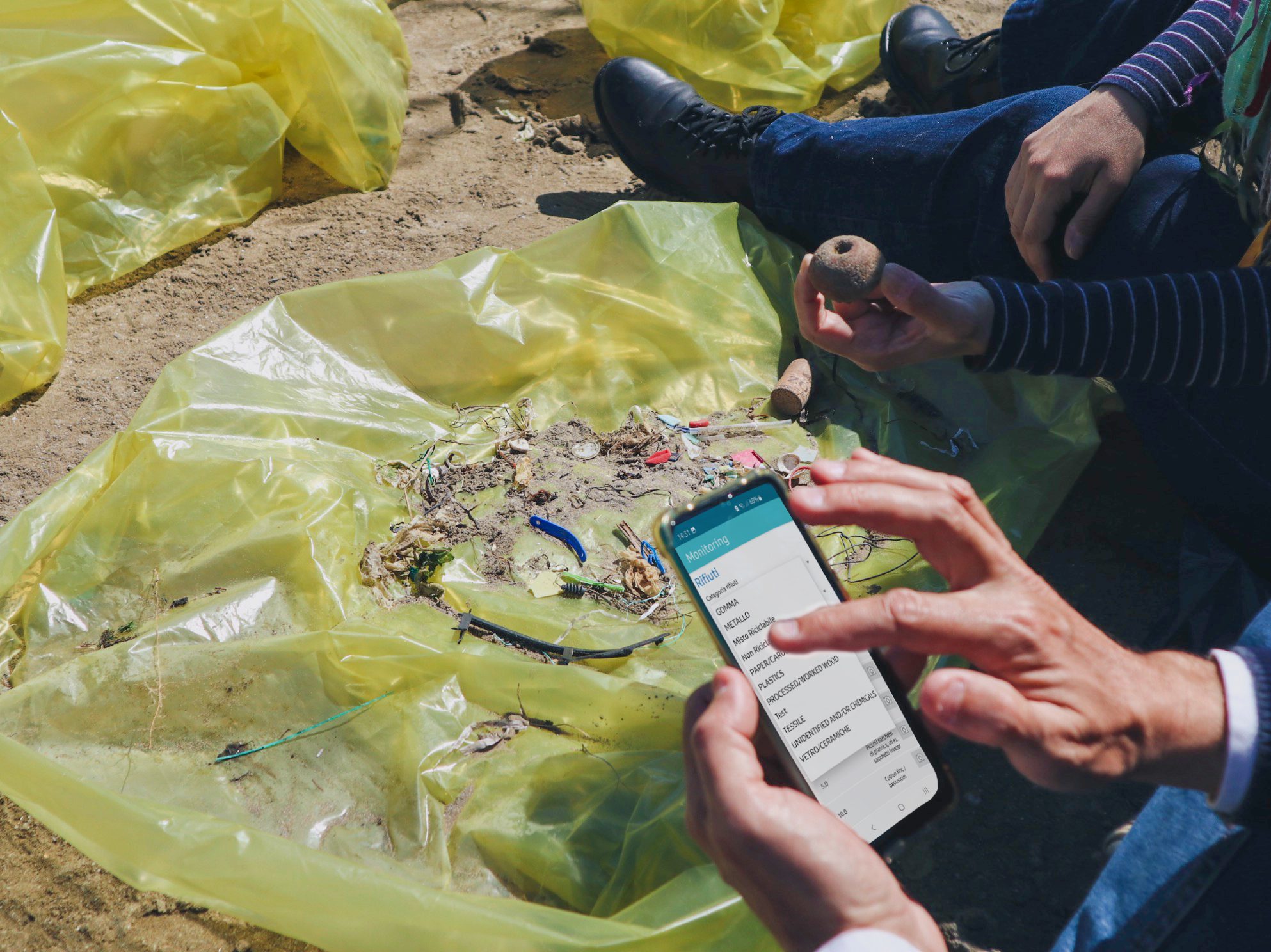 The monitoring module supports marine litter surveys by providing operators with a multilanguage catalogue of stranded macro- litter items from the EU Marine Litter Item Category Masterlist.
The clean-up module provides a platform to record quantity (e.g. number of bags and weight) and type of litter (e.g. recyclable, not recyclable, etc.) collected during clean-ups.
The tracking module allows to record the transfer of the waste material, from the place where it was collected to its final destination where it is transformed into new products. For information: info@maelstrom-h2020.eu