MAELSTROM's flash interviews #1 | Talking about robotics and sustainability with Damien Sallé (Tecnalia)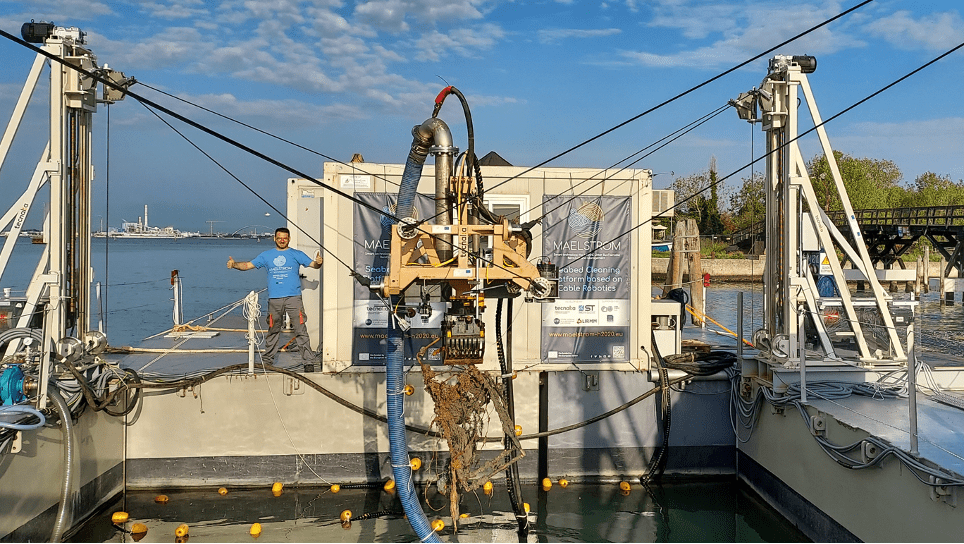 Robotics is increasingly a part of scientific research in many fields. While it can be a concrete and valuable support for achieving the Sustainable Development Goals of the Agenda 2030, it also raises questions about its own sustainability: just think about the production of the necessary materials and their management.
These issues were recently discussed at the What does it take for a robot to be sustainable? conference organized by AI for Good, which was addressed by Damien Sallé, Coordinator of Robotics & Automation at our partner Tecnalia and one of the creators of our Robotic Seabed Cleaning Platform. We therefore inaugurate with him our series of flash interviews, brief insights into the different issues we are facing in our MAELSTROM project!
Robotics and artificial intelligence are gathering enormous research efforts and appear to be increasingly important for our future. How can robotics and AI help us to achieve sustainable development models?
Indeed, robotics and AI are important technologies. They are used in more applications and sectors everyday, not only in the manufacturing plants, but also in agriculture, health, construction, energy, logistics, inspection and maintenance and many more. In Tecnalia, for the past years, we are also developing a new line of applications targeting Environmental Sustainability and in particular the Circular Economy, because we also want to contribute to the fight against climate change. Robotics in this sector can help a lot to bring efficiency but also ensure quality, traceability and thus trust, which is a main barrier for a wider deployment of remanufactured or refurbished products.
We can see applications of robots in 4 main sectors:
Removing the waste from the environment, like we do for the seabed marine litter in MAELSTROM
Inspection and repair of equipment, using robots with vision to detect the defaults and additive manufacturing to repair them (works for plastics, metals or concrete components)
Dismantling, disassembling and remanufacturing of equipment, to allow the re-use of some components or to remove as much pure material as possible before shredding and recycling. For example, we do that for electric car batteries or motors.
Sorting the waste to increase the purity of the recycling processes, using robots with multispectral cameras and AI for example. It is already used in urban waste plants, and we develop solutions to expand it to construction waste, textile, batteries, RAEE etc.
Is there, conversely, any aspect of possible unsustainability coming from robotics and AI based technologies?
Well, robots are complex mechatronic machines. Therefore, they incorporate lots of metal, plastics, electronics, but also complex motors and gearboxes, complex sensors and many computers. More and more the AI runs not only on the robot embedded computer (edge) but also in the Cloud in powerful servers hosted in datacenters and communicating with the robot through internet. Most of the time they are electric machines, so mobile robots also need batteries. In some rare occasions where a very large autonomy is needed, they can be powered by a gasoline generator. So yes, theses machines have an environmental impact that is negative to build and operate them. Just like any other machine, I would say.
What can be done to prevent future robotic and AI technologies from reinforcing or creating "new" problems?
Everything in life is about balance… so technology itself is neither positive nor negative. It's how and why we use it that counts! Sustainability has three domains: economic, social and environmental. In almost all cases, robots bring economic sustainability not only for the companies but also for the territories where they are deployed, because they allow a better competitive offer and allow maintaining a strong industrial ecosystem. They can also have an impact on the social domain when they are used to assist people with special needs in the workplace, or help in ageing care for example. For environmental sustainability, we've already discussed some examples. Of course selling useless robots for kids or geeks that end-up unused after a few days because they don't provide any real value, that is a very bad use of our resources and quota of CO2… But it is absolutely not restricted to robots and apply to all our electronic devices, cars, fashion and so on.
If we focus on the environmental impact, and this is a personal opinion, in order to minimize the impact of the climate change on the ecosystems and biodiversity (reducing CO2 emissions) I don't see other options than adopting sobriety practices which basically requires to do less. It means moving from a "consume-as-much-as-we-can" way of life to a "consume-wisely-and-only-when-needed" philosophy… Then we can work on optimizing the use of our quota of C02 to Do Better the products, technologies etc…
Given these premises, then, how can we minimize the environmental impact of robots?
Well, manufacturers could keep working on improving the intrinsic properties of robots, by using only recycled/recyclable materials, by optimizing their energy consumption, by optimizing their programming taking into account also energy parameters and so on.
But more critically: starting by using them only for things that are really worth the extra environmental cost! And for this, you enter in the evaluation of the sustainability balance, having to compare impacts of different natures: how can we decide if it is sustainable or not a robot such as our in MAELSTROM, that requires CO2 and materials for its manufacturing and operation, but have a positive impact on the environment because it removes pollutants? Well, there is a tool called LifeCycleAnalysis (LCA) that lists all these positive and negative impacts throughout the whole lifecycle of the system, from its design to its recycling. It's not easy nor perfect, but it is good indicator. I really encourage you to start using these tools to make informed decisions!